<![endif]-->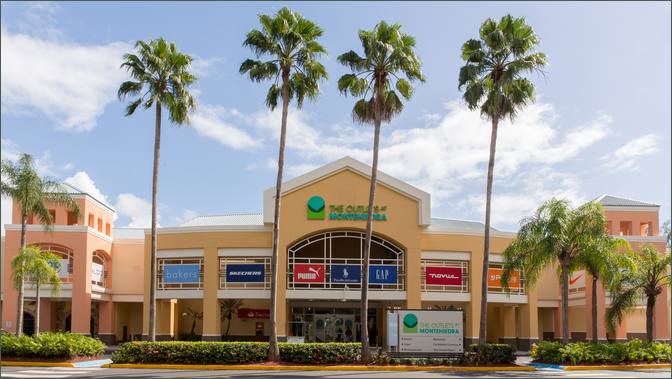 Outlets at Montehiedra
9410 Avenue Los Romeros


San Juan

, PR

00926

This property is located just 6 miles south of San Juan on PR 52, the island's only north/south expressway. The property is highly visible as 125,000 cars per day utilize that portion of PR 52. In 2017, the property underwent a $21M renovation and repositioning converting it to outlet/value oriented in 2016. As a result, it is now the closest Outlet center to San Juan with Barceloneta being ~30 miles to the west and Canovanass located ~12 miles to the east.

The center has a strong anchor line up with Mega Marshalls (includes Homegoods) being the second best on the island. Big K-Mart is top 3, and Home Depot is top 2. As part of the 2017 renovation Caribbean Cinemas invested over $10M to create the island's first IMAX, 4DX amusement concept with 14 screens and stadium seating. The food offering at the property includes high volume Chili's and Macaroni Grill. IHOP and El Meson round out the mix with island favorite Cayo Caribe slated to open in the summer of 2019.

Montehiedra is an affluent bedroom community with upscale housing diversity. Over 20% of the island's 3.5M residents live within 10 miles and 10% live within 5 miles. Montehiedra is just 5 miles south of Plaza Las Americas and many customers utilize the convenience and ease of access to make this their primary shopping choice.

The property is 20 minutes from the airport and 10 minutes from the Condado in the CBD of San Juan.
Highlights
County: San Juan
Type: Regional Center (Outlet)
Total SF: 537,328
Acres: 55.43
Parking Spaces: 3,050
Metro Area: Puerto Rico

VP - Leasing
Paul Schiffer
VP - Leasing p. 216-789-5174

VP - Specialty Leasing
Patricia Zafferese
VP - Specialty Leasing p. 718-275-2871

Outlets at Montehiedra
| | |
| --- | --- |
| Available | Coming Available |
Available Spaces
1020
32,634 SF
1330
3,048 SF
1621
810 SF
1A02
Mega Marshalls
52,460 SF
1K08
T-Mobile
100 SF
1K09
Sunglass Hut
180 SF
1112
Eye Center Boutique Outlet
1,500 SF
1113
Italics
1,600 SF
1120
Totto
1,554 SF
1130
Exentrix
1,461 SF
1140
Sally Beauty Supply,
1,561 SF
1150
Humberto Vidal
2,165 SF
1160
Pacific Sunwear
4,374 SF
1161
Sola
2,740 SF
1162
Kokomo Tibbi
2,319 SF
1170
Kameha Meha Outlet
2,500 SF
1180
Casa Febus
2,978 SF
1195
Polo Ralph Lauren
9,820 SF
1230
GNC
1,730 SF
1245
Skechers
3,478 SF
1260
Kress & Kress Kids
6,331 SF
1270
Gap
7,508 SF
1280
Roma Silk
2,734 SF
1290
Bakers/ Novus
4,525 SF
1310
Pearle Vision
1,905 SF
1320
Valija Gitana Outlet
1,961 SF
1400
El Meson
2,082 SF
1530
The Fashion Lounge
757 SF
1540
La Defensa
2,525 SF
1550
MasterCuts Family Haircutters
722 SF
1560
Kokomo/Tibbi - Coming Soon
2,513 SF
1596
Nike Factory Store
13,150 SF
1610
LR Fine Arts International
1,080 SF
1612
Fast Repairs Jewelers
495 SF
1615
Open Mobile
585 SF
1620
Figuras Perfectas
990 SF
1631
Italics Couture
1,635 SF
1650
Italics
1,602 SF
1670
Crossway Salon
2,430 SF
1680
Banco Santander
1,553 SF
1690
Puma Outlet
5,253 SF
1700
Romano's Macaroni Grill
7,000 SF
1710
ALDO
2,103 SF
1720
Me Salve
4,317 SF
1730
Lu Fashions
1,383 SF
1740
Disco Hit
1,573 SF
1770
Chili's Grill & Bar
6,370 SF
1800
Temporadas Outlet
2,458 SF
1810
Preciosa Outlet
1,335 SF
1820
Cayo Caribe - Coming Soon
1,007 SF
1840
IHOP
4,929 SF
1850
Li fashion
1,087 SF
1860
Wetzel's Pretzels
831 SF
1880
Alondra beauty supply
678 SF
1888
Building Management Office
1,237 SF
11750
La Nueva Era Outlet
3,635 SF
A01
K Mart
104,742 SF
B02
K Mart
7,991 SF
FC0101
KFC
768 SF
FC0102
Country Pit
651 SF
FC0104
La Parrilla Argentina
370 SF
FC0105
Taco Maker
530 SF
FC0106
Flamers Charbroiled Hamburgers
461 SF
FC0107
California BBQ
356 SF
FC0108
Sbarro
700 SF
FC0109
Cold Stone Creamery
324 SF
FC0111
Panda Express
651 SF
FC0111A
Panda Express
285 SF
K12
Starbucks
467 SF
K15
Wetzel's Pretzels
100 SF
P101
The Home Depot
110,241 SF
P101A
The Home Depot
P102
Caribbean Cinemas
50,000 SF
P103
KFC #584
2,475 SF
P104
Burger King
2,120 SF
S997
Prime Janitorial Services
203 SF
Outlets at Montehiedra