<![endif]-->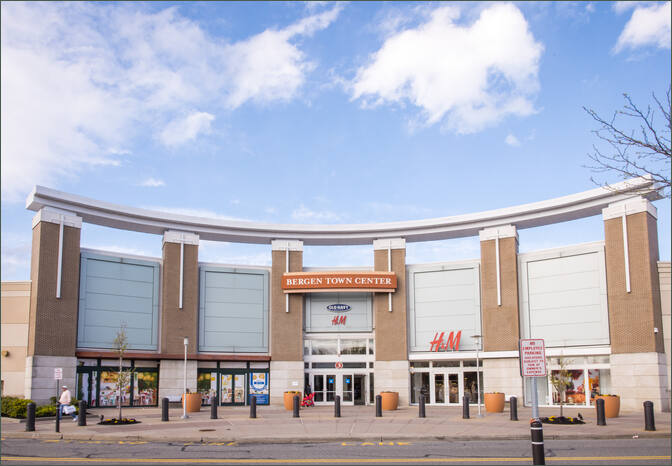 The Outlets at Bergen Town Center
One Bergen Town Center


Paramus

, NJ

07652




Bergen Town Center is the second largest mall in Paramus and continued investment has allowed it to maintain its position as one of the most visited shopping destinations in the market. A $50M renovation was completed in 2020 which added vertical density with a 3rd floor Burlington, Park Assist to the west garage, renovations to the east garage to provide better access, and a new children's play area to the interior portion of the mall. The tenant mix has been significantly upgraded over the last 15 years and further investment and development is planned. Framed by Route 4 in Paramus and East Spring Valley Avenue in Maywood, Bergen Town Center is accessible and open on both sides with no visible "back of house". This design maximizes traffic flow and allows for more outside entrances for many of the mall tenants.

Located in Paramus, where retail sales outpace the likes of Disney and the famous Rodeo Drive, with more retail sales recorded than any other zip code in the country. Bergen Town Center enjoys a regional destination draw as well as services the immediate area of Paramus, Maywood, River Edge, Hackensack, Lodi, and Rochelle Park. Route 4 has a tremendous 154,673 VPD and within the 10.5 square miles of Paramus, Bergen Town Center is in good company with nearly 800 retailers.

Teterboro Airport is 5 miles to the south, George Washington Bridge is 11 miles to the east, Routes 4 and 17 are the epicenter of the Bergen mega-retail center and Fairleigh Dickinson University is 4 miles to the east.
Demographics
| | 1 mi. | 3 mi. | 5 mi. |
| --- | --- | --- | --- |
| Population | 15,003 | 173,293 | 556,552 |
| Daytime Population | 18,369 | 186,193 | 529,277 |
| Households | 5,384 | 64,200 | 194,857 |
| Avg HH Income ($) | 141,071 | 123,443 | 116,468 |
| Med HH Income ($) | 112,099 | 91,648 | 83,409 |
| % College Educated | 29.3 | 29.8 | 25.6 |
Highlights
County: Bergen
Type: Regional Mall/Value Center
Total SF: 1,008,035
Acres: 39.53
Parking Spaces: 5,602
Metro Area: New York Metro

Leasing Agent
Leigh Lyons
Leasing Agent p. 201-571-3508

Specialty Leasing
Patricia Zafferese
Specialty Leasing p. 718-275-2871

The Outlets at Bergen Town Center
| | | |
| --- | --- | --- |
| Available | Coming Available | Coming Soon |
Available Spaces
23
1,389 SF
32
1,219 SF
204
1,362 SF
E-2B
1,654 SF
K12
256 SF
K17
144 SF
K103
150 SF
| | | |
| --- | --- | --- |
| 1 | Children's Place #0929 The | 8,238 SF |
| 4 | Guess Factory #3266 | 6,473 SF |
| 5 | New York & Company Outlet | 4,748 SF |
| 6 | Perry Ellis | 3,273 SF |
| 7 | Carter's | 4,000 SF |
| 8 | Skechers Outlet | 6,765 SF |
| 9 | Tommy Hilfiger | 8,651 SF |
| 11 | Mumuso | 1,829 SF |
| 12 | Sayki | 2,334 SF |
| 13 | Express #1825 | 8,127 SF |
| 14 | Cozy | 1,499 SF |
| 15 | Disney Store Outlet | 5,866 SF |
| 17 | Kay Jewelers Outlet #S4200 | 2,048 SF |
| 19 | Allen Edmonds Outlet #39079 | 1,319 SF |
| 20 | Steps NY | 1,978 SF |
| 21 | GNC #768 | 1,250 SF |
| 21A | Street Corner News | 677 SF |
| 24 | Watch Station | 983 SF |
| 25 | Tates Suits | 4,432 SF |
| 27 | J. Crew The Mens Shop | 2,035 SF |
| 28 | GameStop #1810 | 1,165 SF |
| 29 | Claire's #3122 | 1,284 SF |
| 30 | Gap #726 | 14,342 SF |
| 31 | J. Crew | 6,247 SF |
| 33 | Banana Republic #1917 | 8,398 SF |
| 34 | Villa Fresh Italian Kitchen | 2,817 SF |
| 35 | U.S. Polo Assn. | 3,600 SF |
| 37 | Nike Factory Store | 13,383 SF |
| 38 | Subway #46430 | 1,258 SF |
| 39 | AT&T | 954 SF |
| 40A | Wetzels Pretzels | 627 SF |
| 40B | Dunkin Donuts | 901 SF |
| 41 | Baskin Robbins | 765 SF |
| 102 | Burlington | 2,030 SF |
| A-1 | Century 21 | 56,150 SF |
| A-2 | Target (t2381) | 124,000 SF |
| A-3 | Whole Foods | 64,580 SF |
| A-4 | Marshalls #361 | 18,510 SF |
| A-5 | Off 5th | 24,667 SF |
| E-1A | European Wax Center | 1,472 SF |
| E-1B | Massage Envy | 2,348 SF |
| E-2A | T-Mobile NJPA003640 | 2,519 SF |
| E-3A | Cava #CAV010044 | 2,600 SF |
| E-3B | Sticky's Finger Joint | 1,465 SF |
| E-4 | Bobby's Burger Palace | 3,500 SF |
| E-5 | H & M #334 | 4,606 SF |
| E-6 | Lands' End | 5,302 SF |
| E-7 | Valley National Bank | 2,681 SF |
| E-8A | Qdoba Mexican Grill #2616 | 2,400 SF |
| E-8B | Sarku Japan | 1,875 SF |
| E6A | Chopt | 2,645 SF |
| K05 | Accessorize It II | 144 SF |
| K06 | Piercing Pagoda | 168 SF |
| K10 | Accessorize It I | 144 SF |
| K14 | IFIX | 150 SF |
The Outlets at Bergen Town Center