<![endif]-->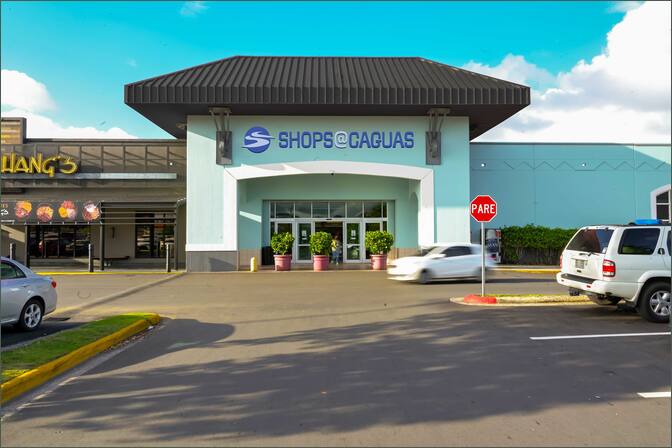 Las Catalinas Mall
400 Calle Betances


Caguas

, PR

00725

Las Catalinas is an enclosed regional center with over 100 stores. The property is highly visible, with easily access from PR 52 the island's primary north/south expressway. The property is located just 6-miles south of Montehiedra and offers a strong array of prominent national retailers in Old Navy, G by Guess, Footlocker, Forever 21, Aeropostale, Van Heusen, Bath & Body Works, Adidas, Children's Place, Zumiez, Shoe Carnival and PF Changs. There is no material competition to the south with Ponce being ~40 miles away.

Caguas is a densely populated community at the base of the mountains that separate the island. The 7-mile population of ~750K provides a built-in customer base that prefers this property for their day to day shopping. PR 52 and 30 intersect in Caguas, allowing the center to serve many communities in all directions without the congestion associated with Plaza to the North.

The property is only 25 minutes from San Juan.
Highlights
County: Caguas
Type: Regional Center (Mall)
Total SF: 497,204
Acres: 41.96
Parking Spaces: 2,293
Metro Area: Puerto Rico

Leasing Agent
Paul Schiffer
Leasing Agent p. 216-789-5174

Specialty Leasing
Patricia Zafferese
Specialty Leasing p. 718-275-2871

Las Catalinas Mall
| | | |
| --- | --- | --- |
| Available | Coming Available | Coming Soon |
Available Spaces
01A01
122,577 SF
0090
2,056 SF
0150
931 SF
0170
884 SF
280
2,109 SF
0570
1,107 SF
610A
2,000 SF
0975
2,369 SF
K-4
100 SF
K-5A
140 SF
K17
100 SF
RMU-15
185 SF
TMP12
160 SF
| | | |
| --- | --- | --- |
| 01A02 | Sears #1085 | 69,343 SF |
| 01P130 | FirstBank | 3,000 SF |
| 01P140 | Pizza Hut | 3,100 SF |
| 01P150 | Burger King #13086 | 3,500 SF |
| 01P160 | Oriental Bank and Trust | 6,000 SF |
| 01P170 | Church's Chicken | 2,800 SF |
| 0025 | Me Salve | 4,478 SF |
| 0040 | Rainbow #1689 | 3,286 SF |
| 0050 | Adidas | 4,186 SF |
| 0070 | Children's Place | 6,280 SF |
| 105 | Zumiez | 2,615 SF |
| 106 | Kress/Click | 3,464 SF |
| 0110 | Flamers Charbroiled Hamburgers | 428 SF |
| 0120 | Chopsticks II | 629 SF |
| 0130 | El Meson Sandwiches | 659 SF |
| 0140 | Taco Bell #1733 | 679 SF |
| 0160 | KFC #581 | 1,022 SF |
| 0180 | Kelly's Cajun Grill | 843 SF |
| 0190 | Casa Mofongo Express | 679 SF |
| 0200 | Hot Potato The | 686 SF |
| 0210 | Kokomo/Tibbi | 3,414 SF |
| 0220 | Kids Footlocker | 2,094 SF |
| 0230 | Claro | 2,089 SF |
| 0240 | Preciosa | 2,089 SF |
| 0256 | Van Heusen | 4,218 SF |
| 0270 | Bakers | 2,109 SF |
| 290 | Casa Febus | 2,109 SF |
| 0300 | Casa Febus | 2,071 SF |
| 0310 | Pacific Sunwear #00778 | 4,172 SF |
| 0330 | Game Shop | 2,109 SF |
| 0340 | Pozzazz | 2,109 SF |
| 0350 | Journey's | 3,164 SF |
| 0360 | Aeropostale | 3,146 SF |
| 0370 | A. Plaza | 3,145 SF |
| 0380 | Kamea Meha | 2,108 SF |
| 390 | Lids | 733 SF |
| 0400 | Champs Sports #14600 | 5,594 SF |
| 0410 | La Nueva Era | 3,164 SF |
| 0420 | La Nueva Era | 3,186 SF |
| 0430 | Marianne & Marianne Plus #139 | 4,912 SF |
| 0440 | Humberto Vidal | 1,889 SF |
| 0450 | Pearle Vision #C8344 | 1,942 SF |
| 0470 | Valija Gitana | 1,172 SF |
| 475 | Andis Nails & Hair Salon | 1,665 SF |
| 0480 | Eye Center Boutique | 1,035 SF |
| 0490 | Diamond District | 728 SF |
| 515 | G by Guess | 4,578 SF |
| 0560 | Old Navy | 12,711 SF |
| 0580 | Boost Mobile | 1,400 SF |
| 0591 | H & R Block #65209 | 1,285 SF |
| 612 | Forever 21 | 13,668 SF |
| 0631 | Auntie Anne's | 200 SF |
| 0640 | Aldo | 1,890 SF |
| 0650 | Vitamin World | 1,405 SF |
| 0680 | GNC | 1,391 SF |
| 0690 | Deo Eyewear | 1,927 SF |
| 0725 | P.F. Chang's | 7,500 SF |
| 0740 | XimiVogue | 1,926 SF |
| 0750 | Lu Fashion | 1,422 SF |
| 0760 | Lotus | 1,422 SF |
| 0785 | Novus | 3,658 SF |
| 0790 | Foot Locker | 3,968 SF |
| 0800 | Sola | 2,009 SF |
| 0810 | La Favorita | 1,921 SF |
| 0820 | Wetzels Pretzels | 567 SF |
| 830 | Bath & Body Works | 2,883 SF |
| 0840 | Claire's #6721 | 1,415 SF |
| 0850 | Totto | 337 SF |
| 0860 | Exentrix | 1,265 SF |
| 0875 | AT&T Mobility #10097151 | 2,501 SF |
| 890 | Inglot Cosmetics | 1,270 SF |
| 900 | Zapaventura | 1,259 SF |
| 0910 | Journeys Kidz | 1,259 SF |
| 0925 | T-Mobile | 2,142 SF |
| 0940 | Bejeweled | 734 SF |
| 0950 | TV Novedades | 798 SF |
| 0966 | Shoe Carnival | 9,756 SF |
| 0990 | Shoe Carnival | 1,369 SF |
| 1000 | Sprint | 1,598 SF |
| 1001 | O-Market | 1,068 SF |
| 1020 | Pandora | 1,092 SF |
| 1130 | Bambi | 1,309 SF |
| 01888 | Building Management Office | 2,215 SF |
| 10601 | Sally Beauty Supply #5067 | 1,821 SF |
| 10726 | Outback Steakhouse | 6,914 SF |
| K-8 | Island Ice Smoothies | 160 SF |
| K-9 | Invicta | 180 SF |
| K-10 | Sunglass Hut | 180 SF |
| K-11 | T-Mobile | 100 SF |
| K-15 | Auntie Anne's | 180 SF |
| K-18 | Claro | 160 SF |
Las Catalinas Mall